Obviously my blog has the same look. The new look is coming, I promise. Also, I've been sick with sinuses (ugh), so this week, I won't be blogging as much. Next week, I'll be back in the game!
Now, on to other things. It's that time of year again...time to join reading challenges. Here are a list of challenges I've decided to join. At the end of this post, I'll list the names of some of the books I plan to read and the challenges they belong to. Some of the books qualify for more than on challenge. Now, the thing this year for me is to actually review the books. Last year, I completed most of my challenge lists, but forgot to review. This year, I'm trying to do more book reviews this year.
This challenge is hosted by
The Story Siren
. The goal is to read at least 12 from new Young Adult/Middle Grade authors.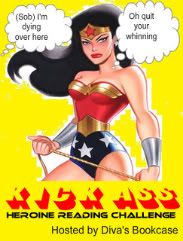 Ok, I saw this one and knew I
had
to join! I absolutely LOVE kick ass heroines! Yvonne over at
Diva Bookcase
is hosting it. All you need to do is read at least twelve books featuring kick ass heroines. The heroines do not have to be the main character, but a big part of the story. The books must be read in 2011.
The purpose of this challenge is for readers to diversify their reading and send a message to publishers: we want more PoC literature and less of white washing of covers. You can sign up
here
. I'm going for Level 4 or 5.
Level 1: Read 1-3 POC books
Level 2. Read 4-6 POC books
Level 3. Read 7-9 POC books
Level 4. Read 10-15 POC books
Level 5. Read 16-25 POC books
This challenge is hosted by Jamie at For The Love of YA. Anyone can join. There are four levels. I'm thinking I'm gonna go for Level 3.
The Mini YA Reading Challenge – Read 12 Young Adult novels.
The "Fun Size" YA Reading Challenge – Read 20 Young Adult novels.
The Jumbo Size YA Reading Challenge – Read 40 Young Adult novels.
The Mega size YA Reading Challenge – Read 50+ Young Adult novels.
This challenge is hosted at
I Eat Words
. Books must be MG or YA and all series must have at least 3 books by the end of 2011. I'll start with Level 3.
Level 1-Trying it Out 3-5 Books
Level 2-Making an Effort 6-8 Books
Level 3-Working Hard 9-12 Books
Level 4-Fully Committed 13-16 Books
Level 5-Beyond Obsessed 17-22 Books
Level 6-Addicted and Loving It 23-30 Books
I figured I can get some adult reading in this year, too. This challenge is hosted by Naida at
The Bookworm
. All you have to do is read at least 5 romance books. Romance can be anywhere from regency romance to YA romance...as long as there's a love story between the two main characters.
CHALLENGE BOOK LIST - There are many more books on my list, but here are a few to start off. In most of the series books, I've already read book one.
* DAC - Debut Author Challenge; KAC - Kick Ass Heroine Challenge; POC - People of Color Challenge; YAC - YA Challenge; YASC - YA Series Challenge; RRC - Romance Reading Challenge


Iron Daughter - Julie Kagawa (KAC, YAC, YASC, RRC)
Iron Queen - Julie Kagawa (KAC, YAC, YASC, RRC)
Kick - Walter Dean Myers & Ross Workman (POC, YAC)
The Divas: India - Victoria Christopher Murray (POC, YAC, YASC)
The Divas: Veronique - Victoria Christopher Murray (POC, YAC, YASC)
The Divas: Aaliyah - Voctoria Christopher Murray (POC, YAC, YASC)
Here Lies Bridget - Paige Harbison (DAC)
Vampire Huntress Books (12 in all) - L.A. Banks (KAC, POC, RRC)
Shadow Walker - L.A. Banks (KAC, POC)
Manifest - Artist Arthur (POC, YAC, YASC)
Mystify - Artist Arthur (POC, YAC, YASC)
Mayhem - Artist Arthur (POC, YAC, YASC)
Lost Voices - Sarah Porter (DAC)
Famous - Simone Bryant (POC, YAC)
Rival - Sara Bennett Wealer (DAC)
How Lamar's Bad Prank Won A Bubba-Sized Trophy - Crystal Allen (DAC, POC)
OyMG - Amy Fellner Dominy (DAC, YAC)
Exorsistah: X Returns - Claudia Mair Burney (KAC, POC, YAC, YASC, RRC)
Exorsistah: X Restored - Claudia Mair Burney (KAC, POC, YAC, YASC, RRC)
When The Stars Go Blue - Cardidad Ferrer (KAC, POC, YAC, RRC)