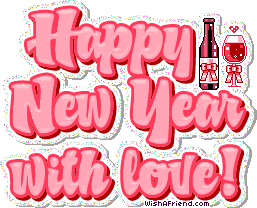 Happy 2010!!!
Thank God for allowing me to see another year...and what an awesome year it's gonna be! I have several goals (not resolutions) that I'm already working to achieve, some of which include completing novels 2 and 3, taking another look at novel #1, changing AYM (my business) from side hustle to main job, etc. I'll be blogging more about my goals later.
One of my goals is to blog more and consistently. To achieve this goal, I've made a few changes to my blog, as far as posting is concerned. Here is my new blog post schedule:
Inspirational Sunday: Every Sunday; Inspiration of the Week post.

Man-ifcent Monday: Every Monday; This day will be reserved for cutie pies. I plan to post pics of cutie pies, or eye candy. Ah! This may be my favorite day.

Tickle-Me Tuesdays: Every Tuesday...hasn't changed; posts with funny/cute jokes, pics, vids to brighten your day.

Writing Wednesdays: Every other Wednesday; This day is reserved for my new blog opera/blog novel/blog series...whatever it's called. Still working on the storyline, but by January 13th, it'll be ready.

Random Thoughts Thursday: Every Thursday (unless there isn't anything to blog about); Posts about my thoughts on what's going on in the world.

Fitness Friday: Last Friday of the month; Posts about my weight-loss journey

Book Review Saturday: Every othe Saturday; I will post reviews of books I've enjoyed reading - books that have left an impact on me. I read all kinds of books (though, at the moment, I'm reading more YA than anything else), so my posts will reflect my taste in books.
So, there you have it. I'm excited about 2010. Are you?