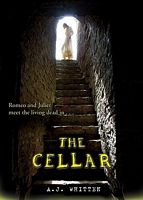 Author
: A.J. Whitten
Genre
: Fiction, Young Adult, Horror
Release
: May, 2011
Source
:
Netgalley
Rating
: 3/5
Description
:
Meredith Willis is suspicious of Adrien, the new guy next door. When she dares to sneak a look into the windows of his house, she sees something in the cellar that makes her believe that Adrien might be more than just a creep—he may be an actual monster.

But her sister, Heather, doesn't share Meredith's repulsion. Heather believes Adrien is the only guy who really understands her. In fact, she may be falling in love with him. When Adrien and Heather are cast as the leads in the school production of Romeo and Juliet, to Heather, it feels like fate. To Meredith, it feels like a bad omen. But if she tries to tear the couple apart, she could end up in the last place she'd ever want to be: the cellar. Can Meredith convince her sister that she's dating the living dead before it's too late for both of them?
Review
: Heather, Meredith, and their mother are mourning the loss of their father, who died in a car accident. Things are no longer the same. Heather, who was in the car that fateful night, has become depressed and no longer interacts with others, including the family. Mom is always away, while Meredith has become the only one who holds it all together. When Adrien and his mother buys the house next door, things seem to look up for Heather. Out of all the girls in the school, Adrien chose her. Meredith is automatically suspicious of him, but doesn't know how to tell Heather. Her suspicions are confirmed one day after she and a friend sneaks next door and looks into the window Adrien's cellar. Adrien and his mother are actually zombies and need Heather to continue living (or as close to living as possible, since they're zombies).
WHAT I DIDN'T LIKE
:
The description calls it "Romeo and Juliet meet the living dead." There was a lot of "living dead" but very little "Romeo and Juliet."
It switched points of views often (one chapter would be in third person and the next chapter would be in 1st person - Meredith's voice).
WHAT I LIKED
:
I liked the character of Meredith...her voice. She was very realistic. I loved how, despite the fact that Heather distanced herself away after the accident, Meredith was still protective of her sister. She suspected something was wrong with Adrien and she made up her mind to do something about it. As someone who has a sister, I appreciate that. Very "no one messes with my sister!"
The blossoming relationship between Meredith and Sam, who happens to be her friend and sister's ex-boyfriend. I personally wouldn't go for any of my sister's ex, but here, it works.
It was gory at times...often times, maybe too gory...but it held my attenion. I wanted to keep reading to see if Meredith would succeed.
The ending was a very surprising twist. That's all I'll say about that.
This book is not for the faint of heart. Like I said, at times, it was a bit too descriptive when it came to the zombies and what they did.